Summary:A mini Jeep is a small vehicle that is smaller than an ordinary car. It costs around $2,000 to build...
A mini Jeep is a small vehicle that is smaller than an ordinary car.
It costs around $2,000 to build and has many modern amenities such as LED lights, power steering, electric windows, and sound system. The car isn't all-wheel drive, but its low weight and small footprint make it a good candidate for off-roading. It could also be made to be even more powerful by adding a second motor.
The Mini Jeep is powered by a 13-horsepower Honda gasoline engine. It features a hydrostatic transmission with reverse, rack-and-pinion steering, all-wheel suspension, and an aluminum differential. It also has dual disc brakes, an emergency parking brake, a complete lighting system, and a deep-cycle maintenance-free battery.
The design of the mini jeep Roxor is similar to that of the Jeep Willys CJ, but the vehicle functions more like an off-road sport vehicle. Its maneuverability and control have earned it a reputation for being fun to drive. However, the future of the Mahindra Roxor in the United States remains uncertain. Its Wrangler-inspired design might be a deterrent for potential buyers in the United States.
Mahindra Automotive North America is a subsidiary of Mahindra and has purchased a manufacturing plant outside Detroit. Mahindra plans to invest $600 million in the United States by 2020. The company is already building Roxor in suburban Detroit, but the carmaker is still in the process of signing dealers.
Off-road Buggy-Mini jeep Widely Used Four Wheel Drive Vehicl Motorcycle Small Adult All Terrain Vehicle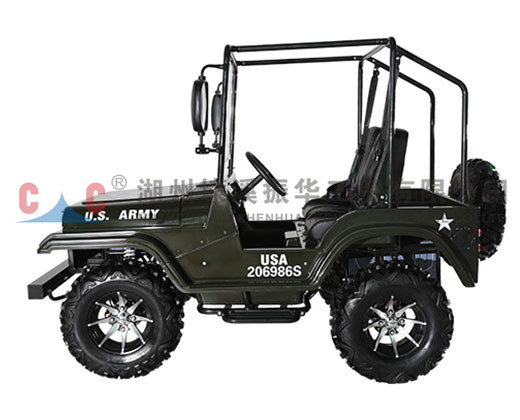 Huzhou Daixi Zhenhua Technology Trade Co., Ltd . (ZHT) with a registered capital of 12 million RMB established in 2002, mainly engaged in leisure motorcycles, electrical cycles, electrical barrows, RV accessories (gas range, water heater, awning, etc. ). Business receipt reached 20 million USD per year.
As famous 
Mini Jeep manufacturers
 and exporter in China, ZHT exports its products to over 30 countries, including USA, Japan, Australia, most European countries, and some Southeast Asian countries. The company has maintained the ISO9001 Quality System Certification since 2003, and also owns 48 patents and some certifications by CE, UL, CSA, EPA, EEC, ADR, etc. We custom 
wholesale Mini off road Jeep
. The company totally has 110, 000 square meters in land and 90, 000 square meters of the building. The new expansion of 66, 000 square meters of land and 48, 000 square meters buildings are under production and nearly completed.