Summary:Motorcycle exhaust systems are complex systems that are a key component of the motorcycle's overall ...
Motorcycle exhaust systems are complex systems that are a key component of the motorcycle's overall performance.
They are designed to improve the engine's performance and decrease noise, while also cleaning the exhaust gas of hazardous compounds. They also have to meet the aesthetic and cost demands of the marketing team, as well as bike packaging requirements. This all amounts to a complex balancing act and many compromises.
Aftermarket exhaust systems are available in many forms. Some are straight pipes that only replace a part of the stock system. Other types are full bolt-on systems, which replace all of the original exhaust components and require no fabrication. While these options are relatively inexpensive, they can still result in significant changes to the motorcycle's performance and appearance.
Installing a motorcycle exhaust system is not difficult. Bolt-on exhaust systems can usually be installed within twenty minutes, but some bikes require body panel removal. Before undertaking the task, take into account your mechanical aptitude, your understanding of the exhaust system, the tools that you have, and your ability to follow directions. If you're not sure whether or not you're up to the task, a professional can help you.
In order to improve your motorcycle's performance, you should install a quality motorcycle exhaust system. The right system will improve the efficiency of the engine and increase the bike's overall performance. The right exhaust system will also lower the amount of work that your motorcycle needs to do. This means that your bike will run smoother, with less effort on your part.
The type of exhaust system you install on your motorcycle will determine how much horsepower your motorcycle will make. Regardless of whether you are using the bike for sport or for transportation, a quality exhaust will improve its horsepower and mileage. Aside from lowering the engine's noise levels, a good exhaust system will also improve the motor's fuel efficiency.
A motorcycle exhaust is made of two types: positive and negative waves. The positive waves pass through the intake valve and back into the cylinder during valve overlap, while the negative waves pass through the exhaust pipe. These waves cause the exhaust to experience a peak in performance at a specific rpm range. But, exhaust designers often use a variety of techniques to spread the peak performance across a wider range of rpm. They also modify the sound to comply with regulations.
A motorcycle exhaust system can be made of a variety of materials. Some are lightweight and extremely efficient, while others are more restricted and loud. Remember to choose one that fits your motorcycle perfectly. This is important if you want to maximize the performance of your motorcycle and prevent any unpleasant surprises. Once you know your bike's needs, you can buy an exhaust system that best suits your style and budget.
A motorcycle exhaust system is also important for the comfort of its rider. The exhaust system pushes toxic gasses away from the rider, preventing the rider from breathing carbon monoxide.
Electric Four Wheels Trolley-PC030-01 Factory Directly Wholesale Barrow Lifter Farm Electric Power Industrial Wheelbarrows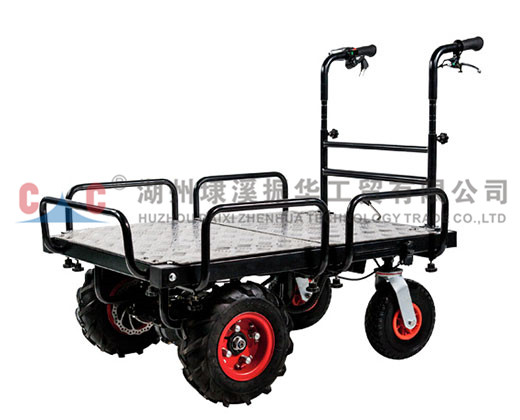 TYPE
PC030-01
CERTIFICATION
UL / PSE / KC / CE
MOTOR POWER (W)
350
BATTERY TYPE
LEAD-ACID / LITHIUM
BATTERY CAPACITY (V/AH)
24/24
DURATION (H)
2.5
PRODUCT SIZE (MM)
1350*730*890
PACK SIZE (MM)
1080*750*500
TIRE (FRONT/REAR)
13-6 / 3.50-4
BRAKE
DISC
QTY PER CONTAINER (PCS)
20'GP
60
40'HQ
128